Godrej Woods is a new residential complex that is designed with high-rise luxury homes with configurations of 2BHK and 3BHK that ranges from 1255-2088 Sq Ft. The Godrej Woods Noida offers a landscape which comes with a range of lifestyle facilities such as Terrace Celebration Area, 24 Seater Private Mini Theatre, Business Center, Branded Creche, Basketball Court, Concierge services, Branded Spa and many more. Also, on offer are 3200 Sq Ft branded Gym, Shopping Zone for daily needs, badminton Tennis and restaurant that enables quality living. The homes here have huge thoroughfares and corridors that offer a cool design that may make you feel proud as your homes.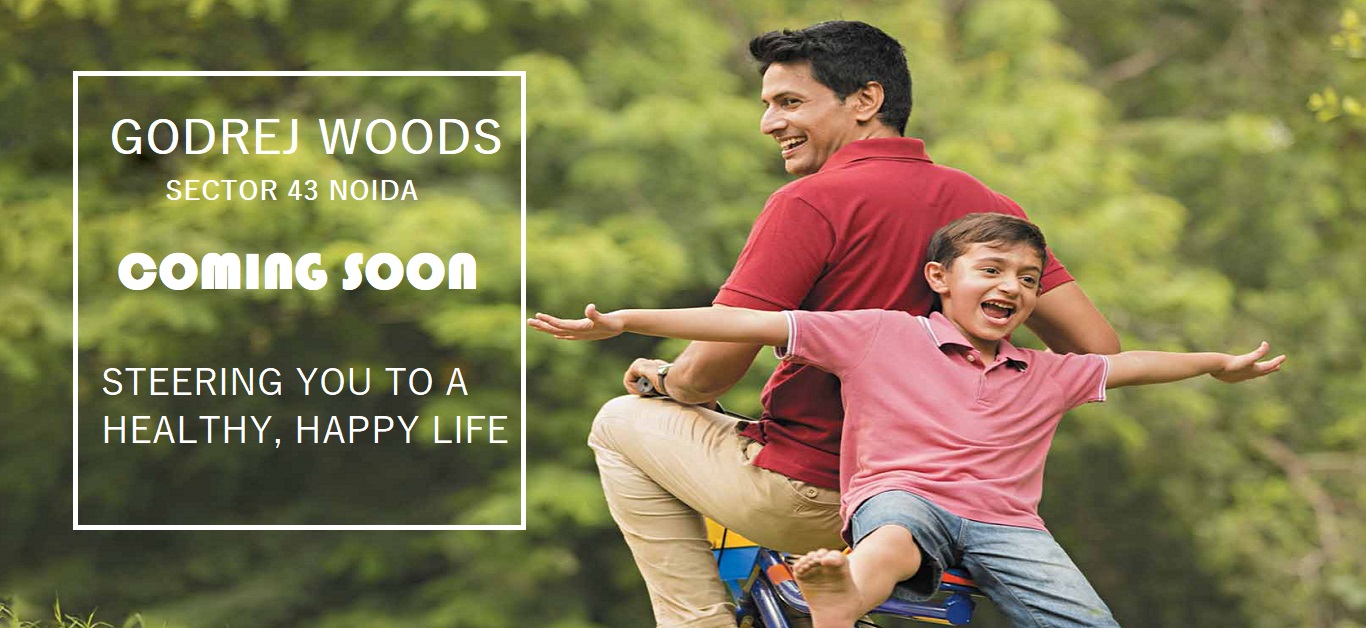 The homes are well managed in terms of strategic design and with natural air ventilation with wide parking and ample space which offers natural sunlight. The important factors that are found to be well combined with exquisite and grand living can be found at Godrej Woods. The Godrej Woods Noida gives easy connectivity with Dadri road and Taj Expressway Noida. The nearby services on offer are college, hospital, spa service, gym, local shop, banks and atm's along with malls are in the close vicinity. The Godrej Properties are known to provide a world-class living experience which can be seen in every one of the residential projects.
The homes by Godrej Woods let you live with harmony and solace and offer great living. The 2BHK and 3BHK homes are extravagant in every possible way and give peace and tranquility to the lifestyle. It is situated in Sector 43 Noida and is spread over 2.2 million sq ft. The Godrej Woods Noida offers 83% open space along with a better atmosphere. The homes here are exceptional with all the necessary convenience that includes every minute detail in an extravagant manner. The overwhelming aspect is that Godrej Homes meet all the standards set by Vastu shastra. The homes here offer a tennis court, children's jungle gym, sunrise yoga deck, leisure pool with seating decks.
The other advantage on offer is lush tropical planting, dry stone nurseries, pool juice bar, skating arena, BBQ pits with seating. The central water area has spouts and the palm tree grove is with multi-purpose lobby, meditation zone, games zone and a lot more are on offer. The various other amenities on offer are:
Project size-11 acres
Total unit-999 with a high rise and iconic towers
Design by Hafeez contractor
Musical walkways
Vertical gardens inspired by Changi Airport
Maze Gardens, Sculpture gardens
Poolside cabanas
Tower 7
High Rise tower (G+35)
Musical fountain at the entry with Roman architecture entry gate
Luxury 5 star living inspired by Oberoi Udayvillas
Terrace swimming pools
Waterfall feature in the clubhouse
Floating restaurant near swimming pool with 50 pax capacity
Shallow brooks, pedestrian walkways
The homes are affordable and have an ideal location which gives the primary advantage in terms of amenities and green surroundings. The apartments here are well designed with an 80% area that is enclosed with lush greenery and better landscape gardens. The Godrej woods are certainly one of the most ideal places for living that gives a complete sense of freedom and enjoyment that leads to the luxurious lifestyle. Another Builders Project: Trident Embassy Reso Price List ||  Civitech Strings Price List.