Gaur Castlevania is another feather in the capable cap of Gaursons, and it is located right in the middle of Gaur Yamuna City within the close frontiers of Yamuna & Yamuna Lake. This beautiful residency is part of the imaginatively conceived 250-acre span of Gaur Yamuna City, so you can expect self-sustenance to be on the top of the Gaur menu. You will gain 2 & 3 BHK apartments of the luxury segment and the prices are easily affordable to any economy what with financial institutions stepping in to help buyers.
Location Advantage
Gaur Castlevania is advantageously placed in the middle of Yamuna Gaur City and is adjacently placed with Yamuna Expressway. It is in 4th Parkview Sector 19, Greater Noida, and has a 6-landing Jewar International Airport coming up nearby. A proposed ISBT is coming up and so is Textile Park a billion-dollar project. The Eastern Peripheral Expressway is nearby and two prominent educational institutions Amity University & Sharda University are within easy reach. The Yamuna Expressway connects with Agra and other en-route cities and so are the link roads to the Capital and the rest of Noida.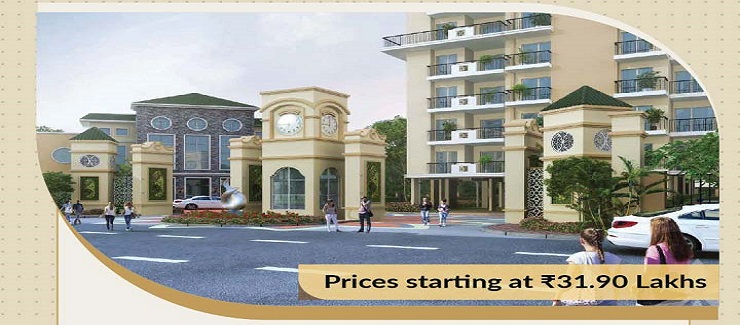 Project Specifications
Gaur Castlevania built in the Victorian Castle's theme offers 2 & 3 BHK apartments in the configuration of 1060 sq mt to 1520 sq mt. the entire project is confined within a big 6-acre land area and the starting price for the castle apartments is Rs.31.90 Lac. 6 Majestic towers contain the residential apartments and the apartments are provided additionally with a study. It is in the integrated township of Gaur Yamuna City hence inherits the unobstructed view of Yamuna Lake.
What do you get for your investment?
The entire ambiance is Victorian what with imposing castle-themed towers and forests developed in the vicinity. 65% of the entire plot is open and it has Gaurs International School which is CBSE affiliated. It has landscaped gardens, an open terrace, 800-strong car parking, huge basement, exclusive club activities both indoor and outdoor, community hall with reception, kitchen and changing rooms, washrooms, outdoor swimming pool, meeting halls for official gatherings, amphitheater, kids play area, elders sit-out, jogging track, yoga and meditation, sewage treatment plant, garbage disposal, water harvesting, and RO systems are mandatory services provided to residents. The project has ample security via CCTV and manned security while it gets an uninterrupted supply of water and power 24 hours with an auto-detection and suppression fire fighting system on standby.
The Gaur Castlevania is a Gaur's creation and you can expect promises fulfilled and timely delivery honored. You could also expect top-class architecture and construction from the builder thus ensuring a trusted investment for the future.