Gaursons has also earned a good reputation in the commercial property construction industry and has developed many world-class commercial properties like corporate offices, shops, showrooms, and complexes at different parts of Noida and Greater Noida. For instance, the Gaur City Center is one of the sought after commercial projects of the Gaursons, which is getting immense popularity in the industry. It is a commercial mall, located at Greater Noida, West. This is a multi-story shopping mall that is a one stop place for the shoppers and business freaks. The project location is perfect and can be reached via road. Also, the project site gives proximity to the nearest metro station, local bus stand, FNG Expressway, NH-24, etc. Hence, the commercial mall is easy to approach via road and allows shoppers to enjoy shopping anytime.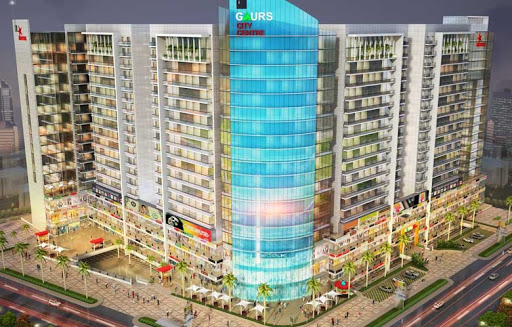 Gaur City Center is a dream commercial project of the Gaursons. This massive commercial building possesses robust construction and good infrastructure that inspires the businessmen and shoppers to visit the spot time and again. The project offers furnished office spaces and retail shops, which are suitable options for businessmen to start new ventures of their companies and pursue for a new business setups too. Hence, the businessmen looking for the finished shops or office spaces for a new branch of company, they all will get the same in this high-end commercial project.
 This commercial project encompasses spacious office spaces and furnished retail shops that are perfect suit options to start businesses like food court, restaurant, photo studios, salons, anchor suit, etc. Moreover, the building includes the finished office spaces that will be ideal to start a new branch of a company or set up a new venture. The total numbers of shops offered in this commercial mall are 1535. The building has 1 tower and 17 floors too. Moreover, the project is sprawled over the area up to 5.49 acres of land as well. The project area is also safe for shoppers to visit and enjoy shopping in the peaceful environment. So, if you are looking for new retail shops for business and office spaces for new ventures in a commercial building, you should book for the office space and retail shops in Gaur City Center, your ideal shopping destination in Noida.
You can buy or rent office spaces and retail shops in Gaur City Center as per requirement. This commercial building will include more facilities for the shoppers and traders such as 14 speed high-speed elevators, proper lighting, stunning flooring and finishing, CCTV cameras, ATMs, power backup, entrance lobby, gated security, a wide car parking that will be enough for parking 4000 cars, and many more. Hence, this commercial shopping complex is a treat for the shoppers and businessmen to get their dream spots and enjoy shopping in a safe and fun loving environment. Gaur Other Commercial Project : Gaur Street Mall Food Court