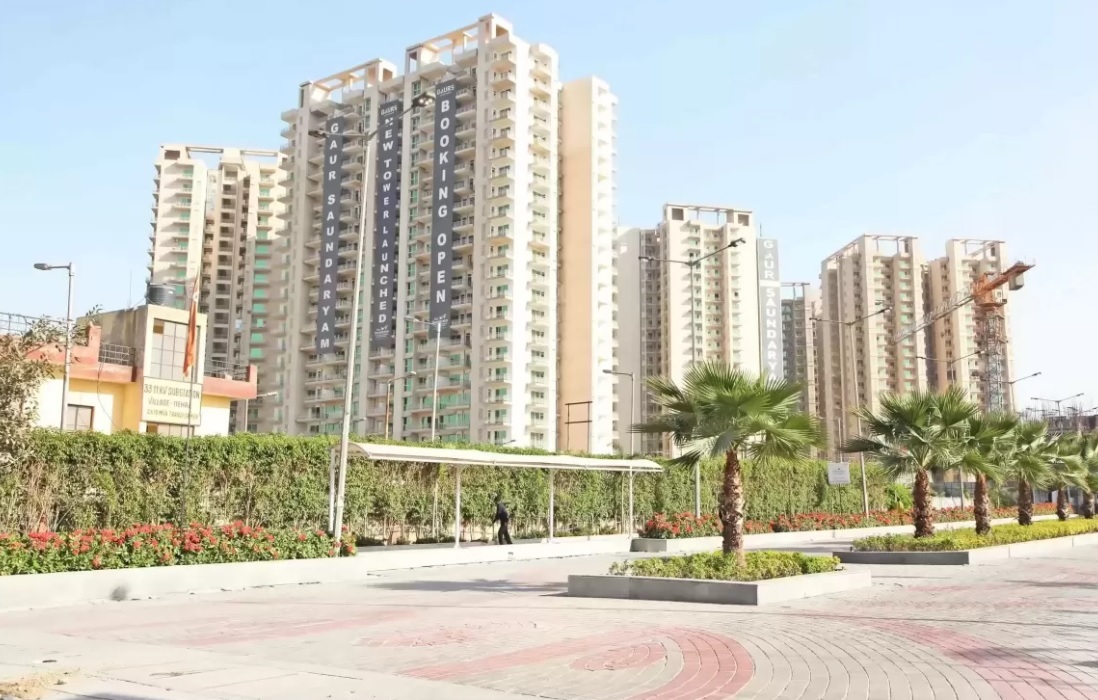 Gaur Saundaryam is a residential project with 3 BHK residential apartments that makes the homes fulfill with all the necessities. Gaursons makes it one of the most promising developments and comes with 3 bedrooms low rise independent floors. It adds as low density project that maintains wide expanse of greenery and makes it a development that suits the needs of the buyers. The project is within proximity of 6 lane FNG Expressway and metro connectivity that is more affordable and convenient. The project has traffic free ground floor that makes and gives feel of a resort like ambience. The residential project has two level basement mechanical parking along with expandable parking space with future requirements. Gaur The Islands price list / Gaur city 2 resale home / Gaur City 4th Avenue price list
Gaur Saundaryam comes with green buildings that adds with gold rating certificate. The project has building that contains double height lobby and comes with covered landscape at the ground floor. It has apartment design with extra floor to floor height. Each of the building contains plaza with covered porch. The project comes as residential one under GNIDA and has UP RERA specifications. It has 130 meter wide road that also faces 100 meter wide green belt. It has metro connectivity with nearest metro station. The project has three tier 24*7 security that has cctv camera with video phone in each of the apartments. It adds with wi-fi enabled complex, swimming pool, kids pool, cricket practice pitch. It enables best of the rain water harvesting system that makes it easy to save precious rain water. The project has amphitheater, entrance plaza and amphitheater that makes it a great place to enjoy during any festive occasion or social gathering.
Gaur Saundaryam has some exclusive amenities as with grand entrance, fashionable glass exterior of building. It has beautiful and plush gardens. The entire project has plush gardens along with exquisite plants and trees that makes it look beautifully clean. It has carved and pebbled path along with spacious space of living. The project has high ceilings and comes with beautiful balconies that offers view of the ground that makes it look serene. The project has huge swimming pool, international level gymnasium that makes it a great place to exercise and enjoy with friends.
Gaur Saundaryam has best of the indoor gaming option, bar lounge, state of the art club. It has shopping center, centralize ac. The homes are state of the art infrastructure and comes with many commercial, residential development all around. The project is eco-friendly and has picturesque landscape that fulfills the lifestyle. The development comes as bedroom, bathroom, hall, balcony and kitchen that are spacious and elegant. The project is made with earthquake resistant structure that makes it a well sustain homes even during tremors.
Gaur Saundaryam is one of the most fabulous residential project that fulfills the needs of the buyers and investors. It is a project that adds to the necessities along with development that is part of the project. It makes one of the reasonable project to buy and comes with different specifications with 3 BHK that makes it an ideal to buy project.