Are you seeking for retail shops in a high-rising commercial building in Greater Noida? If yes, you should check for Saya South X Food Court, which is an under-construction commercial project of Saya Home Pvt. Ltd. The company is counted amongst the leading home and commercial property developers and property brokers in India and is trending in the real estate field since 2010. The company has proven history of developing world-class residential projects as well as commercial constructions in diverse parts of Noida, Greater Noida, and Delhi. Thus, the developer has good reputation in the real estate sector in India and has been developing new projects with passage of time as well.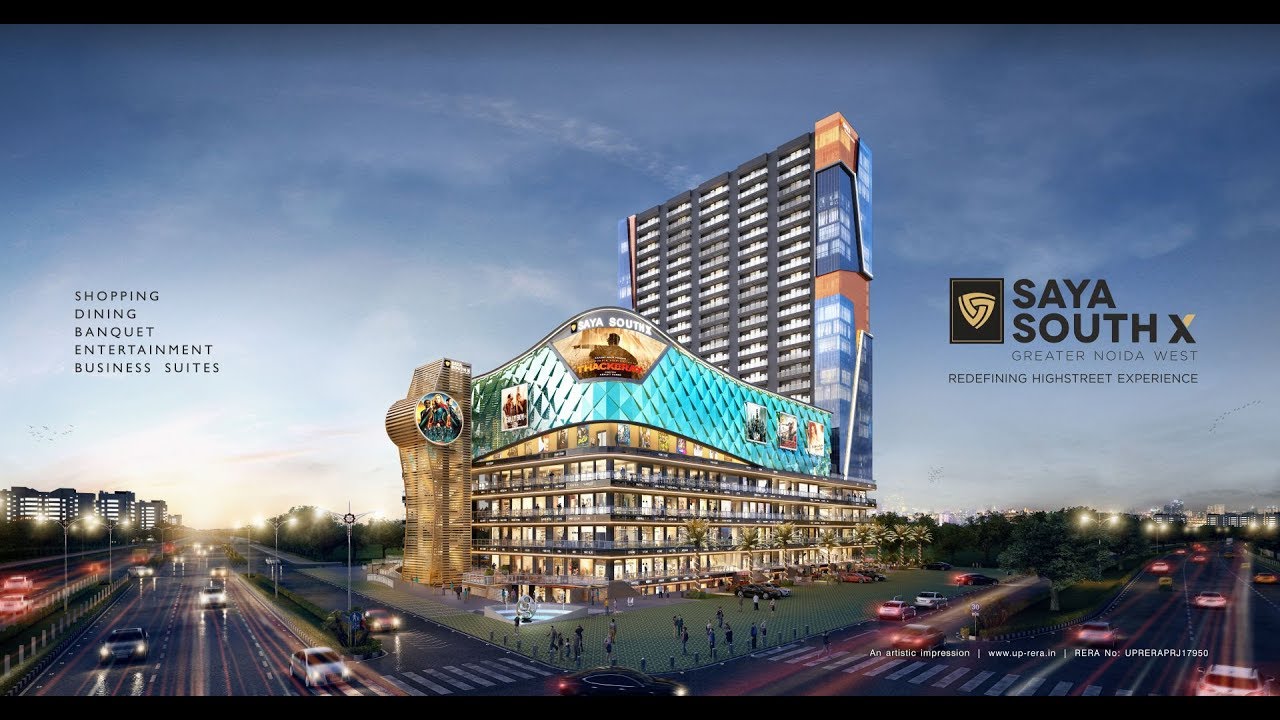 Saya South X is an ideal commercial project that is located at Greater Noida, West. The project encompasses furnished shops and has brilliant specifications such as 1 tower, 25 floors, and 1159 units as well. Moreover, the project covers the widest area up to 2.97 acres land which is also has open space for parking and garden too. Furthermore, this commercial project of Saya is in under-construction that is expected to be completed in September 2023. So, do not be late to book your shops or office space in this on-going project and go for it soon.
Saya South X is a dream project for business freaks, who are wishing to start new businesses at Greater Noida in a commercial complex. The developer has planned to build furnished retail shops and spaces, which are good enough to start businesses of types like photo studio, restaurant, food court, salon, etc. Hence, it is a good opportunity for businessmen to grab shops under the best price ranges or rental charges in commercial project of Saya and start a new business easily. The developer provides shops and office spaces on rent as well as for buying purpose too. Moreover, the size of each shop will also be huge to start business at small to large scale.
The Saya developer has also planned to provide some good amenities in Saya South X Price List such as car parking, high speed elevators, lightening, water supply, toilets, CCTV cameras, security, fire fighting system, intercom, etc. Hence, this commercial project has so many features to attract the buyers to grab shops and start the business without any hesitation.  
Saya South X is also located in the heart of Greater Noida, West and the site is close to the NH-24, Yamuna Expressway, DND Flyover, hospital, bus stand, metro station, etc. Moreover, the developer is going to provide good sewage and drainage facility at the project site to cope with heavy rain and water flood situation in rainy season. Moreover, the giant is making the building earthquake resistant that will assure for long term stability of shops and robust construction of them as well.
Hence, there are so many attractive features to acknowledge in Saya South X commercial project that will surely entice the businessmen to buy shops and start new businesses or office branches in it.  For more details about this on-going commercial project of Saya developer, you may visit its official website as well.