Starting and running a business is no big deal in the present if you are located near Indian Capital New Delhi. The capital attracts immigrants like magnets and each day see the increase of a sizable population there and in the adjacent NCR. This is great news if you are pondering over the idea of establishing a new business in the area or reviving or extending your old business. A business essentially needs a customer base nearby to prosper and the Gaur City Center office Space just that. How about a 5 lacs populace in the nearby residential zone in Greater Noida West? This a juicy offer that no businessman will decline and you don't have ponder doubts about the wisdom of Gaur constructions as they are astute leaders in the business and know where to build their projects, whether commercial or residential.
The Gaur City Center is a multistory commercial complex constructed in a land area of 5.49 acres. The sprawling shopping & office space has 3783 units contained in 17 floors to offer. The offer is quite tempting because of the customer base you are likely to enjoy and the price offer is also tempting as it starts with just 11.25 lacs. The builders have pumped in all the ingredients that are required to make a successful shopping complex including the location. The complex sits right on the border of the popular landmark Gaur Chowk.   The adjacent residential district is estimated to have a population of over 5 lacs and their spending capacity should not be underestimated by any yardstick.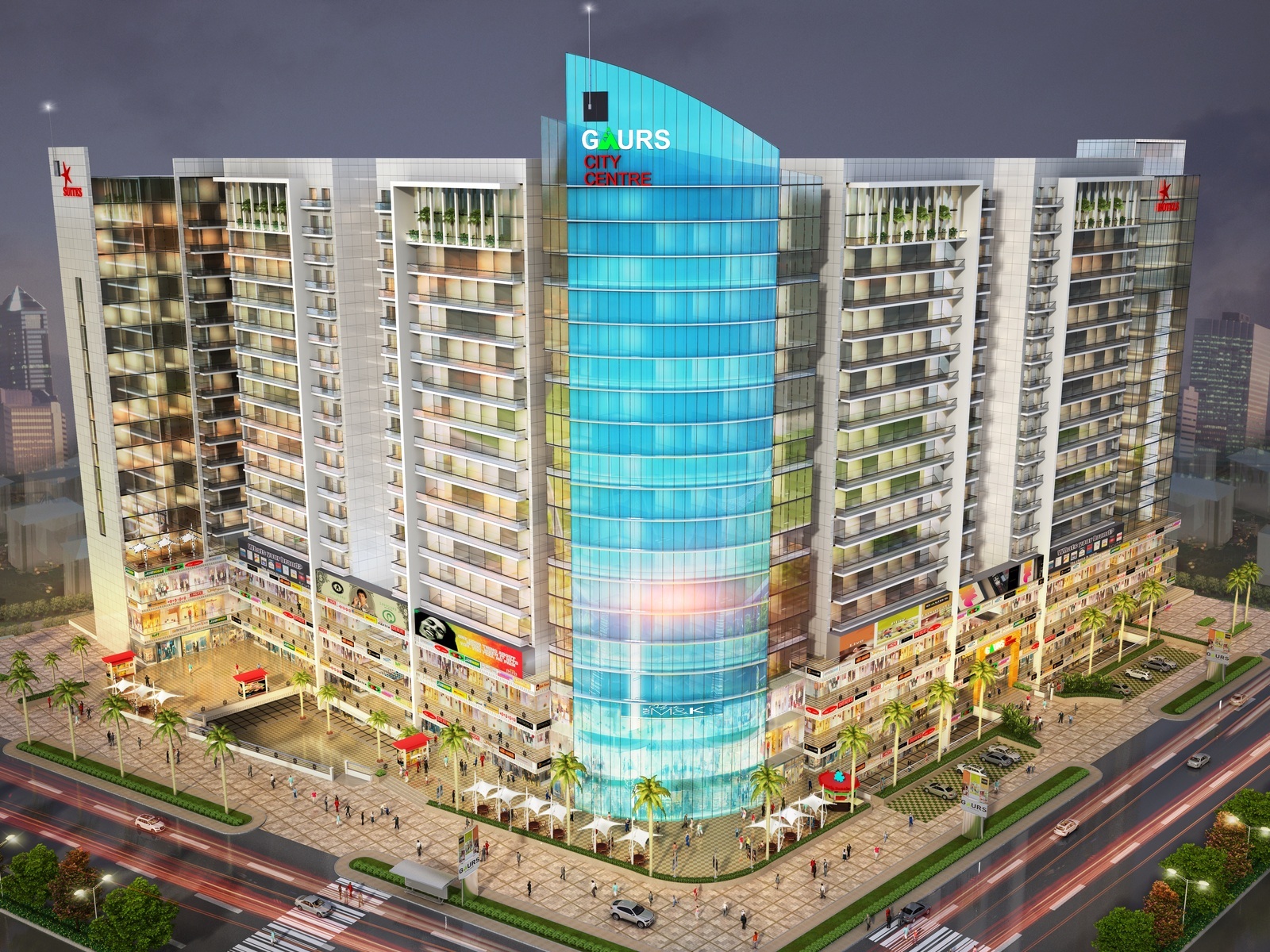 For those who invest in Gaur City Center, the amenities provided here are greatly encouraging as the complex will house 4,000 vehicles at a time in its sprawling car parking. It is multi-level parking and a petrol pump nearby is already in operation. The location also shares a new hospital that has just sprouted in the area. The project is actually a part of the gigantic Gaur City Mall complex spread over an area of 25 acres. A proposed metro station is on the anvil and a 130-wide road connects the center to the rest of the world. All other basic amenities such as lifts, common toilets, lobby, and common areas, 24 hours power backup, and water supply are being put in place in the right perspective. Fire fighting systems, CCTV surveillance, manned and gated security, internal street lights are measures taken to offer adequate protection to the complex. You will not regret your decision if you invest here as the prospect holds great promises that could become realty once it is commenced.
More Gaur commercial Project – Gaur World SmartStreet Mall